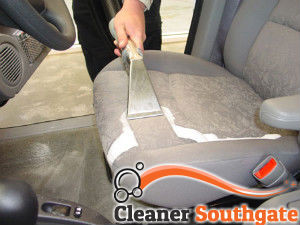 Cars require thorough cleaning to be kept in hygienic condition and the best way to maintain them well sanitised is to use the services of the professionals. No matter what type of car upholstery you have, our employees have the skills, equipment and knowledge to make it look like new.
They sanitise leather, natural and synthetic upholstery fabrics without damaging their structure. Get in touch with us to book the car upholstery cleaning that we carry out in the N14 territory to maintain the inner parts of your vehicles in good condition.
High-quality Car Upholstery Cleaning Services
You can use our services whenever you need deeper or slighter disinfection or refreshing of your car interior. Our staff provide:
Free inspection and sending of written quotes
Dry cleaning of leather car seats
Steam cleaning and hoovering of car upholstery
Fast drying procedures
Refreshed and well sanitised car seats, carpets, doors and luggage compartment
Our staff can ensure the cleanliness of your car interior. They can conduct deep sanitising, refreshing and dry cleaning of car upholstery using the most effective machines and tools for the purpose. The type and condition of the upholstery is inspected by our staff in advance.
Car Upholstery Cleaning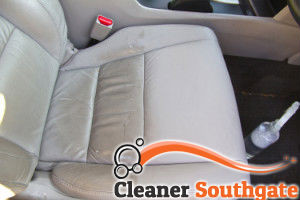 They choose the detergents, machines and methods for sanitising it. Fist, the upholstery is cleaned of the hairs, food and dirt particles with the help of stiff brushes. You can use our professional car upholstery cleaning services in Southgate whenever you need them.
Our cleaners hoover the upholstered seats to gather the visible dirt. Then, suitable stain removers and sprays are spread on the dirty areas and left there for some time. Our cleaning technicians extract the dirt and moisture from the upholstery with vacuum cleaners.
We provide hot water extraction for deeper disinfecting of soiled car upholstery. The machines spread mild cleaning solution on the car seats and hoover the dirt and allergens from them.
After that, our cleaning staff absorb the moisture from the car seats using industrial driers. Contact us to schedule your car upholstery cleaning and our company, based in Southgate, N14, will implement it.